Tiny version of USS Voyager sheds light on physics of microswimmers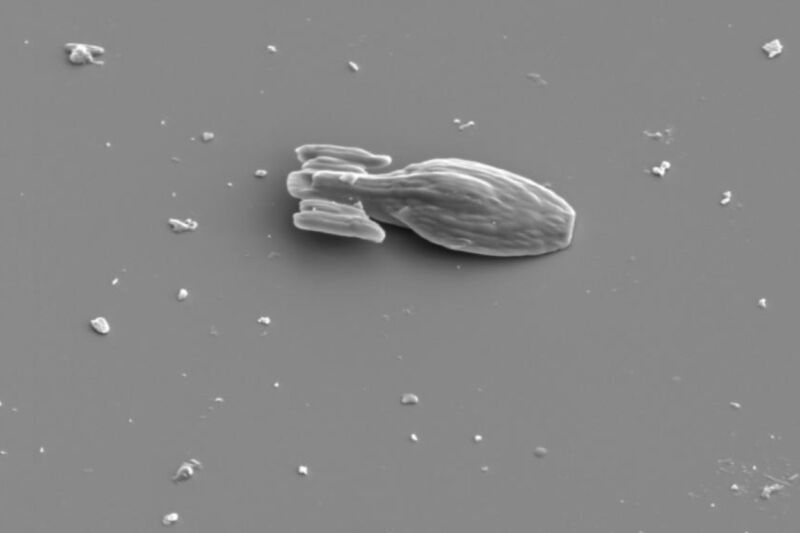 Enlarge / SEM image of a
3D-printed microscopic version of the USS Voyager, a fictional
Intrepid class starship from the Star Trek franchise. Studying such
objects could lead to tiny robots for targeted drug delivery, among
other applications. (credit: R.P. Doherty et al/Soft Matter)
Physicists at Leiden University in the Netherlands have created
a 3D-printed microscopic version of the USS Voyager from the Star
Trek franchise, according to�a
recent paper in the journal Soft Matter. These kinds
of synthetic "microswimmers" are
of great interest to scientists because they could one day lead
to tiny swimming robots for autonomous drug delivery through the
bloodstream, or for cleaning wastewater, among other potential
applications. Such studies could also shed light on how natural
"microswimmers" like sperm and bacteria travel through the human
body.
Because of their small size, microswimmers face unique
challenges when they move through fluids. As
we've reported previously in the context of different research,
biological microorganisms live in environments with a low so-called
Reynolds
number—a number that predicts how a fluid will behave based
on the variables viscosity, length, and speed. Named
after the 19th-century physicist Osborne
Reynolds, the concept is especially useful for predicting when
a fluid will transition to turbulent flow.
In practical terms, it means that inertial forces (e.g., pushing
against the water to propel yourself forward while swimming) are
largely irrelevant at very low Reynolds numbers, where viscous
forces dominate instead. So because bacteria or sperm swim at low
Reynolds numbers, they can barely coast any distance at all if you
push them to set them in motion. It's akin to a human trying to
swim in molasses.
Source: FS – All – Science – News
Tiny version of USS Voyager sheds light on physics of
microswimmers