The Mount Vesuvius eruption was so hot, one man's brain turned to glass.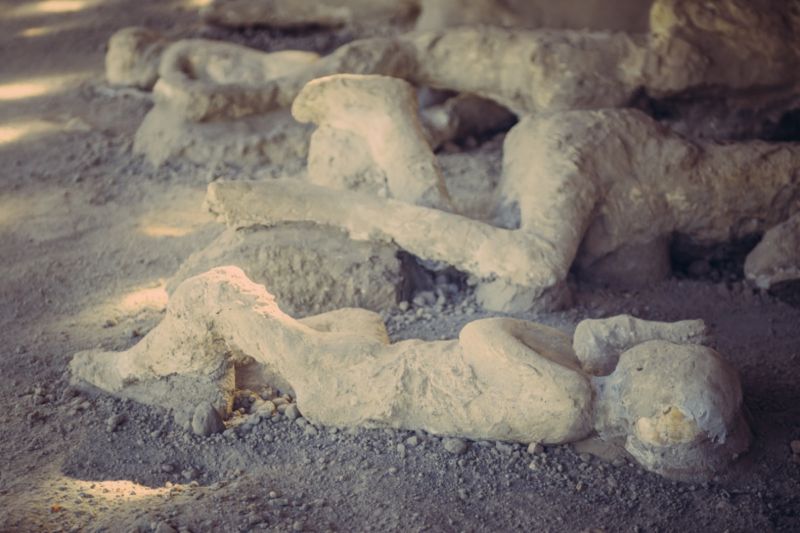 Enlarge / Plaster casts of
victims of the eruption of Mount Vesuvius in 79 CE. (credit:
Flory/iStock/Getty Images)
When Mount Vesuvius erupted in 79 CE, the heat was so extreme in
some places that it vaporized body fluids and
exploded the skulls of several inhabitants unable to flee in
time. Now, archaeologists have determined that the heat also fused
brain tissue into glass in one victim. The discovery is described
in a new short paper in the New England Journal of Medicine.
The eruption released thermal energy roughly equivalent to
100,000 times the atomic bombs dropped on Hiroshima and Nagasaki at
the end of World War II, spewing molten rock, pumice, and hot ash
over the the cities of Pompeii and Herculaneum in particular. Pliny
the Younger wrote of "broad sheets of flame" and a rain of ash in a
letter to the historian Tacitus (the letter is the sole surviving
eyewitness account of the disaster). 
The vast majority of the victims died of asphyxiation, choking
to death on the thick clouds of noxious gas and ash. But a 2001 study in
Nature estimated a temperature of 300° Celsius (572° Fahrenheit)
for the pyroclastic surge that destroyed Pompeii, sufficient to
kill inhabitants in fractions of a second. Back in 2018,
we reported on the conclusion of University of Naples
archaeologist Pierpaolo Petrone (one of the co-authors of the 2001
Nature paper) that inhabitants of Herculaneum may have suffered a
similar fate.
Source: FS – All – Science – News
The Mount Vesuvius eruption was so hot, one man's brain turned to glass.