Stress, heart attacks, and 135 coronavirus cases on quarantined cruise ship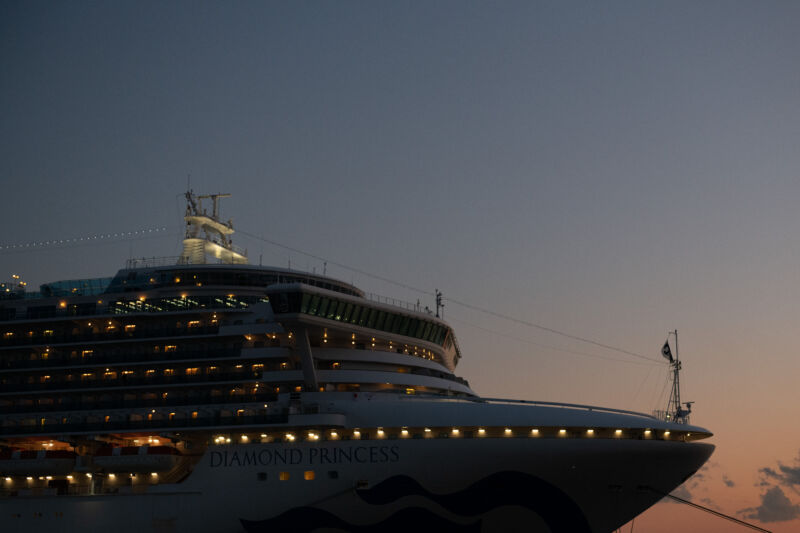 Enlarge / YOKOHAMA, JAPAN
– FEBRUARY 10, 2020: The Diamond Princess cruise ship sits docked
at Daikoku Pier where it is being resupplied and newly diagnosed
coronavirus cases taken for treatment as it remains in quarantine
after a number of the 3,700 people on board were diagnosed with
coronavirus. (credit:
GettyCarl Court)
Japanese health officials on Monday confirmed an additional 65
cases of 2019 novel coronavirus (2019-nCoV) infections aboard the
quarantined luxury cruise ship, Diamond Princess, bringing the
ship's case total to 135.
So far, officials have reportedly only tested 439 of the 3,711
passengers and crew members initially aboard the vessel, which has
been docked in Yokohama, south of Tokyo, since February 3. People
who have tested positive have been removed from the ship and
transferred to local hospitals for treatments.
Health officials are now weighing whether they should—and
can—test more people. According to
The Wall Street Journal, Japan's health minister, Katsunobu
Kato, said that the government has had to reserve testing kits for
potential outbreaks in the rest of the country. He also warned that
additional testing could potentially delay the end of the
quarantine, which for now is set at February 19.
Source: FS – All – Science – News
Stress, heart attacks, and 135 coronavirus cases on quarantined cruise ship