Space Force considers merging Cape Canaveral with Kennedy Space Center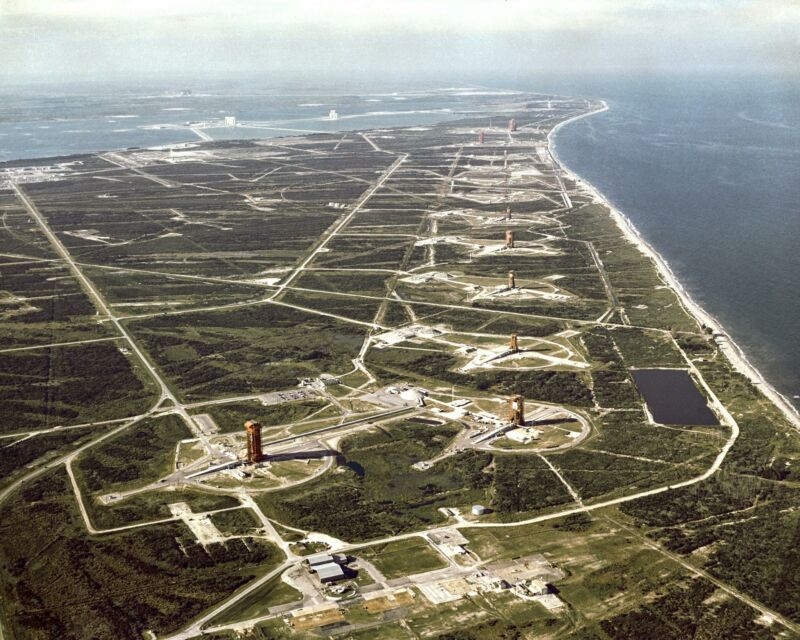 Enlarge / In 1964, an
overall aerial view of "Missile Row," Cape Kennedy Air Force
Station. The view is looking north, with NASA's Vehicle Assembly
Building under construction in the upper left-hand corner. (credit:
NASA)
Last month, the Space Force had a traffic jam to manage at the
Eastern Range for launches it manages in Florida. Three rockets
were vying for opportunities to liftoff amid poor weather and a
slew of issues with ground support equipment.
The largest of the rockets, a Delta IV Heavy booster, carried
the most valuable payload—a classified satellite for the National
Reconnaissance Office said to cost well north of $1 billion. SpaceX
also had two rockets ready to go, one carrying a GPS satellite for
the Space Force and another with a purely commercial mission to
launch the company's Starlink satellites.
The first two missions were located on the Air Force side of the
fence, which is managed by the US Space Force's 45th Space Wing.
The second SpaceX rocket, carrying 60 Starlink satellites, stood on
the NASA side of the fence, at Launch Complex-39A at Kennedy Space
Center.
Source: FS – All – Science – News
Space Force considers merging Cape Canaveral with Kennedy
Space Center