Rocket Report: China unveils big rocket plans, SpaceX's "secret" launch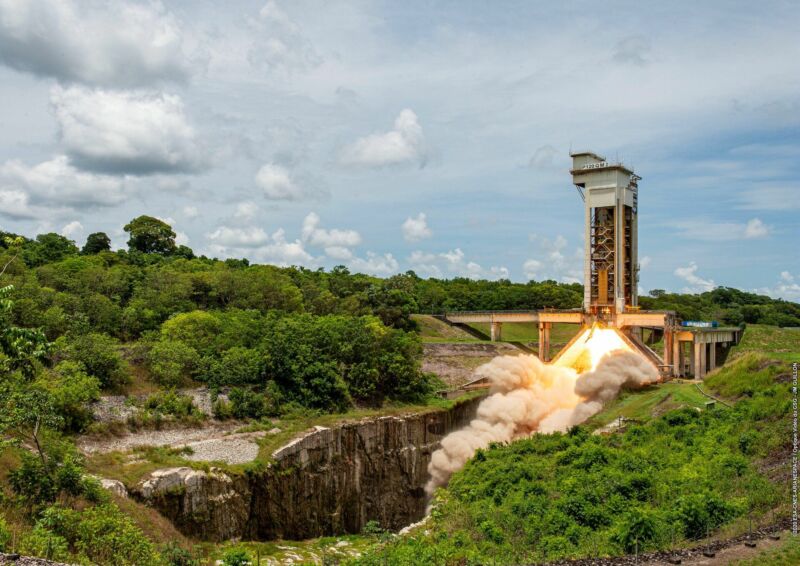 Enlarge / A P120C solid
rocket motor is fired in French Guiana. (credit: European Space Agency)
Welcome to Edition 3.19 of the Rocket Report! This week we were
glad to see US rockets, led by the Antares and Falcon 9 vehicles,
get back on track after a series of scrubs due to technical and
weather issues. Meanwhile, the world's next launch is a big one: a
Soyuz carrying three astronauts to the International Space Station
next week.
As always, we welcome
reader submissions, and if you don't want to miss an issue,
please subscribe using the box below (the form will not appear on
AMP-enabled versions of the site). Each report will include
information on small-, medium-, and heavy-lift rockets as well as a
quick look ahead at the next three launches on the calendar.

Virgin Orbit's rocket comes at a high price. As
Virgin Orbit drives toward its second launch attempt late in 2020,
its expenses are adding up. Started in 2011 by Sir Richard Branson
as an offshoot of his Virgin Galactic space business, Virgin Orbit
has not revealed how much it has spent to date. But industry
officials estimate it has expended between $500 million to $700
million developing LauncherOne and the infrastructure to support
it.
Source: FS – All – Science – News
Rocket Report: China unveils big rocket plans, SpaceX's
"secret" launch