How the Warsaw Ghetto beat back typhus during World War II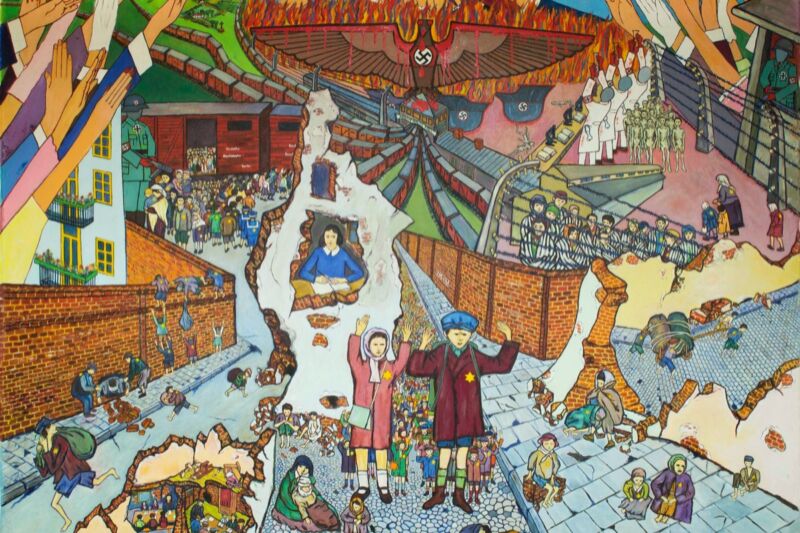 Enlarge / Painting by
Israel Bernbaum depicting Jewish children in Warsaw Ghetto and in
the death camps (1981). (credit: Monclair State University
collection)
During the Nazi occupation of Poland during World War II, Jewish
residents in Warsaw were forcibly confined to a district known as
the Warsaw
Ghetto. The crowded, unsanitary conditions and meager food
rations predictably led to a deadly outbreak of typhus fever in
1941. But the outbreak mysteriously halted before winter arrived,
rather than becoming more virulent with the colder weather.
According to�a
recent paper in the journal Science Advances, it was measures
put into place by the ghetto doctors and Jewish council members
that curbed the spread of typhus: specifically, social distancing,
self-isolation, public lectures, and the establishment of an
underground university to train medical students.
Typhus (aka
"jail fever" or "gaol fever") has been around for centuries. These
days, outbreaks are relatively rare, limited to regions with bad
sanitary conditions and densely packed populations—prisons and
ghettos, for instance—since the epidemic variety is spread by
body lice. (Technically, typhus is a group of related infectious
diseases.) But they do occur: there was an outbreak among the

Los Angeles homeless population in 2018-2019.
Those who contract typhus experience a sudden fever and
accompanying flu-like symptoms, followed five to nine days later by
a rash that gradually spreads over the body. If left untreated with
antibiotics, the patient begins to show signs of meningoencephalitis
(infection of the brain)—sensitivity to light, seizures, and
delirium, for instance—before slipping into a coma and, often,
dying. There is no vaccine against typhus, even today. It's usually
prevented by limiting human exposure to the disease vectors (lice)
by improving the conditions in which outbreaks can flourish.
Source: FS – All – Science – News
How the Warsaw Ghetto beat back typhus during World War
II