FDA approves first treatment for Ebola, a Regeneron antibody cocktail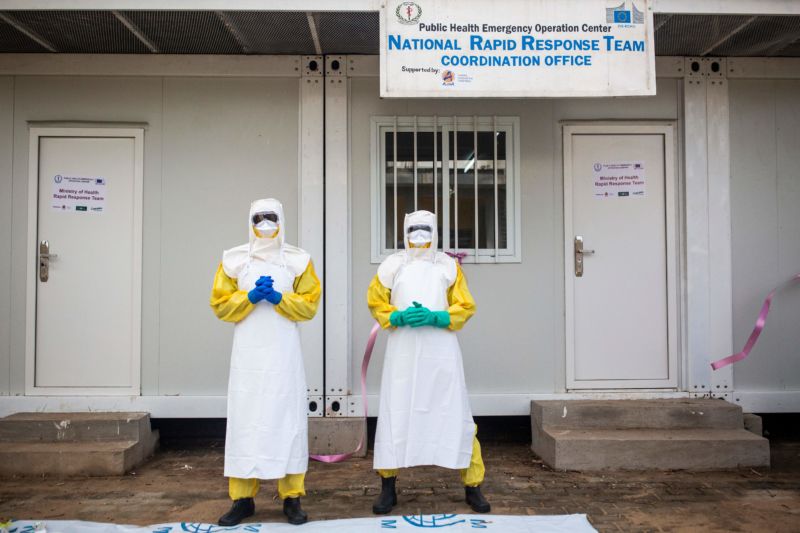 Enlarge / Staff from South
Sudan's Health Ministry pose with protective suits during a drill
for Ebola preparedness conducted by the World Health Organization
(WHO). (credit:
GettyPatrick Meinhardt)
The Food and Drug Administration on Tuesday issued the
first ever approval for a therapy against Ebola virus
disease.
Though the Ebola vaccine,
Ervebo, earned approval late last year and proved
97.5 percent effective in preliminary trials, the newly
approved therapy may be useful in addressing an ongoing outbreak in
Democratic Republic of Congo, which began in June. The FDA's
approval may also boost the outlook for similar therapies being
developed for COVID-19, which may become available before a
vaccine.
The newly approved Ebola treatment, called Inmazeb (aka
REGN-EB3), is a combination of three monoclonal antibodies made by
Regeneron Pharmaceuticals. The antibodies target the only protein
on the outside of Ebola virus particles, the glycoprotein. Ebola
uses its glycoprotein to attach to and enter human cells, sparking
infection. The cocktail of antibodies glom on to the protein,
keeping it from invading cells.
Source: FS – All – Science – News
FDA approves first treatment for Ebola, a Regeneron antibody
cocktail