Europe's solar orbiter begins its journey to the Sun tonight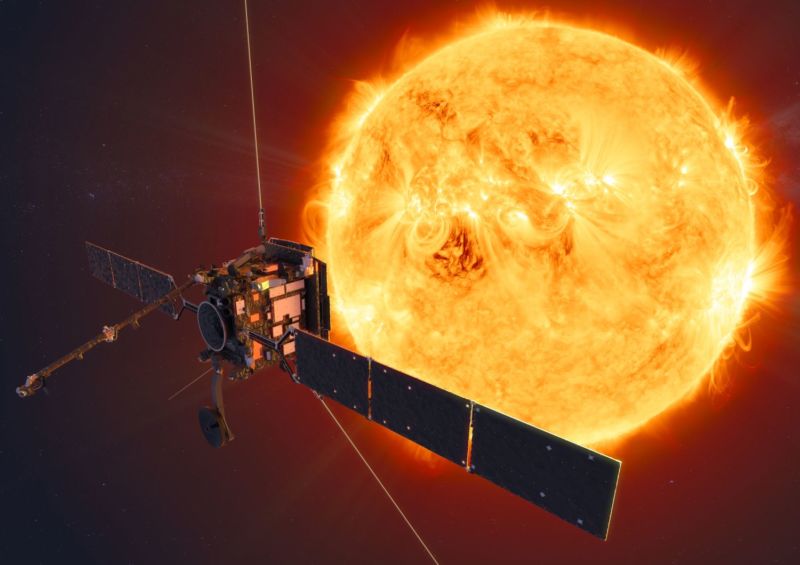 Enlarge / ESA's Solar
Orbiter mission will face the Sun from within the orbit of Mercury
at its closest approach. (credit: ESA/ATG medialab)
Just before midnight on Sunday, a spacecraft will depart from
Cape Canaveral, Florida, on a mission to the sun. Known as Solar
Orbiter, this spacecraft will spend the next seven years dipping in
and out of the extremely inhospitable environment around the sun.
In the process, it will provide us with our first glimpse of the
sun's poles, which will be critical to understanding its
topsy-turvy magnetic field. It will also help uncover the origin of
violent solar storms that send plasma hurtling
toward Earth, where it can knock out
satellites and disrupt our power grids.
The Solar Orbiter mission is spearheaded by the European Space
Agency and has been almost two decades in the making. It
complements NASA's
Parker Solar Probe, launched in 2018, which will pass closer to
the sun than any spacecraft in history. Only a year into its
mission, Parker is providing scientists with four times more data
about the solar environment than expected, says Nour Raouafi, a
heliophysicist at Johns Hopkins University Applied Physics
Laboratory and Parker project scientist. "We are venturing into
regions of space that we never explored before," says Raouafi.
"Every observation is a potential discovery."
Source: FS – All – Science – News
Europe's solar orbiter begins its journey to the Sun tonight