Coronavirus spread in US: Not if, but when and how severe, CDC says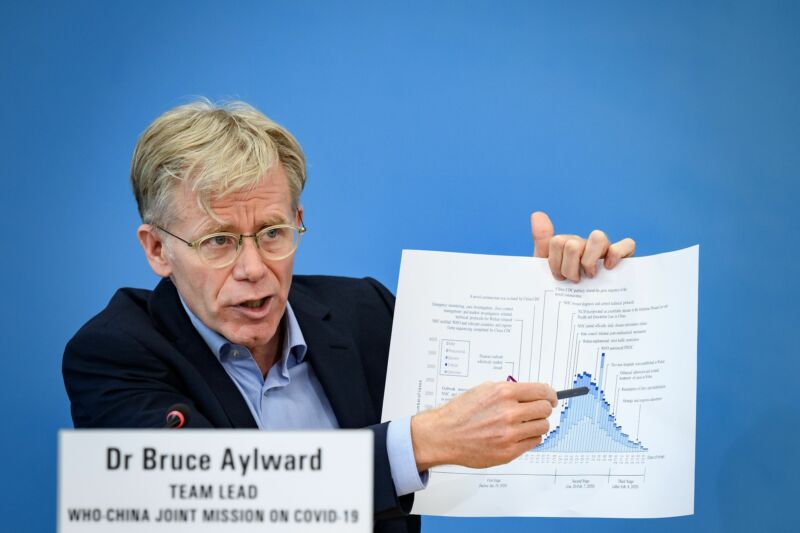 Enlarge / Team leader of
the joint mission between World Health Organization (WHO) and China
on COVID-19, Bruce Aylward shows graphics during a press conference
at the WHO headquarters in Geneva on February 25, 2020. (credit:

GettyFabrice Coffrini)
Fresh off a plane from China, epidemiologist Bruce Aylward sat
before members of the press at the World Health Organization's
headquarters in Geneva, Switzerland, Tuesday and laid out key
insights from the coronavirus front lines.
Aylward, a nearly 30-year veteran of outbreak and emergency
responses with the WHO, had just led a joint mission through the
COVID-19 trenches to appraise the outbreak and China's control
efforts. His assessment was glowing: China had responded swiftly,
on a mind-boggling large scale, and with differential outbreak
responses tailored to curb disease spread in different
settings—from the outbreak's blazing epicenter in a highly
populated city to the spotty disease clusters in rural areas.
He pointed to humped graphs of cases over time—they are the
shape of an epidemic that has been hobbled, he said. Disease spread
has been in decline since the beginning of the month, and doctors
in China are honing their ability to treat patients. "If I had
COVID-19, I'd want to be treated in China," he said
candidly.
Source: FS – All – Science – News
Coronavirus spread in US: Not if, but when and how severe, CDC says