Coronavirus patients flew to US after CDC "explicitly recommended against it"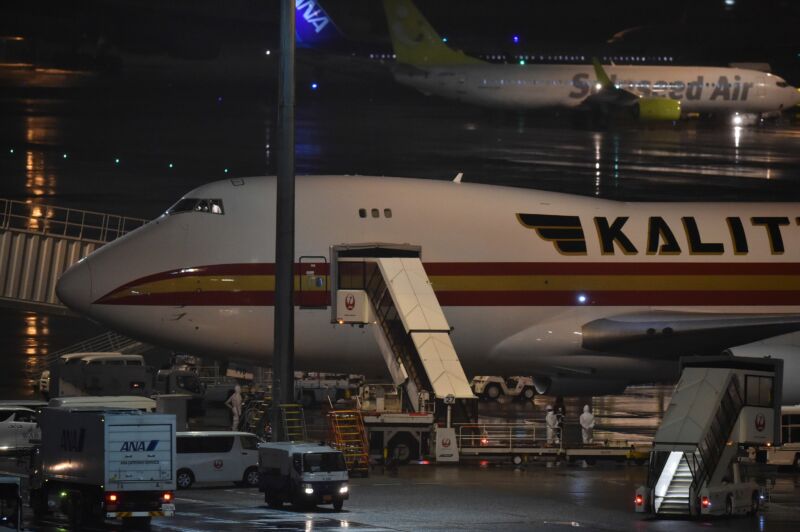 Enlarge / Jumbo jets
arrived to evacuate US citizens from the Diamond Princess cruise
ship, with people quarantined onboard due to fears of the new
COVID-19 coronavirus, at the Haneda airport in Tokyo on February
16, 2020. – The number of people who have tested positive for the
new coronavirus on a quarantined ship off Japan's coast has risen
to 355, the country's health minister said. (Photo by Kazuhiro NOGI
/ AFP) (Photo by KAZUHIRO NOGI/AFP via Getty Images) (credit:

Getty KAZUHIRO NOGI)
Health officials at the US Centers for Disease Control and
Prevention did not want 14 people who had tested positive for the
new coronavirus to be flown back to the US, among hundreds of other
uninfected people—but the CDC experts were overruled by officials
at the US State Department, according to
a report by the Washington Post.
On Sunday, February 16,
the 14 positive people flew from Japan to the US on State
Department-chartered planes. They were among over 300 others, all
evacuees from the luxury cruise ship, the Diamond Princess, which
had an explosive outbreak of COVID-19 cases.
The cruise ship, initially carrying 3,711 passengers and crew,
had been quarantined in Yokohama, Japan since February 3, after a
former passenger tested positive on February 1. But the quarantine
efforts
failed to curb the spread of the virus on board, and case
counts steadily climbed during the 14-day confinement. Even in the
last days, health officials in Japan were still reporting dozens of
new cases.
Source: FS – All – Science – News
Coronavirus patients flew to US after CDC "explicitly recommended against it"