China begins massive effort to test 11 million people for COVID-19 in 10 days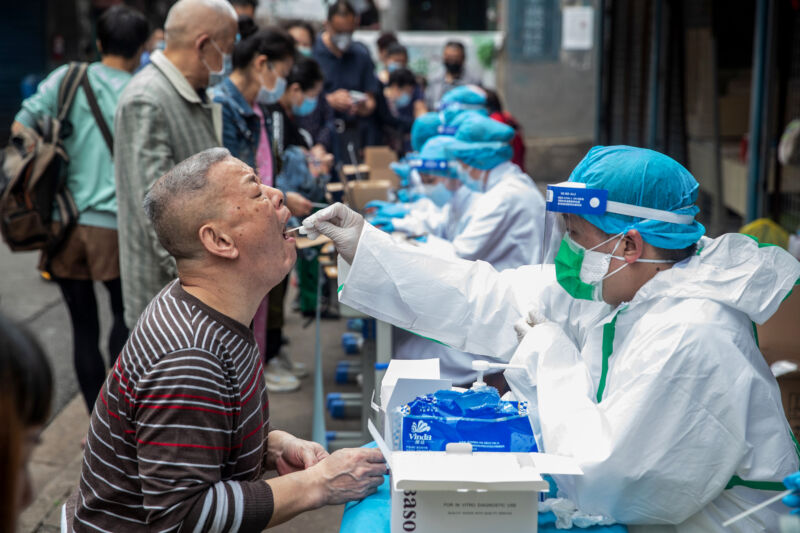 Enlarge / Medical workers
take swab samples from residents (L) to be tested for the COVID-19
coronavirus, in a street in Wuhan in China's central Hubei province
on May 15, 2020. – Authorities in the pandemic ground zero of Wuhan
have ordered mass COVID-19 testing for all 11 million residents
after a new cluster of cases emerged over the weekend. (credit:

GettySTR)
Chinese officials have begun an unprecedented attempt to test 11
million people for COVID-19 in just 10 days.
Plans for the gargantuan feat came about earlier this week after
officials in Wuhan—the capital city of China's central Hubei
province where the pandemic first began in January—identified
a cluster of six new cases over the past weekend. The cluster
included an 89-year-old symptomatic man and five asymptomatic
cases, all of which lived in the same residential community.
The six cases were the first detection of new infections in more
than a month in the hard-hit city—and government officials
aren't taking any chances when it comes to thwarting a dreaded
second wave of infections. They quickly announced a plan to test
all residents of the city, which number roughly 11 million.
Source: FS – All – Science – News
China begins massive effort to test 11 million people for
COVID-19 in 10 days