Bad onions cause Salmonella outbreak in US and Canada, sickening 900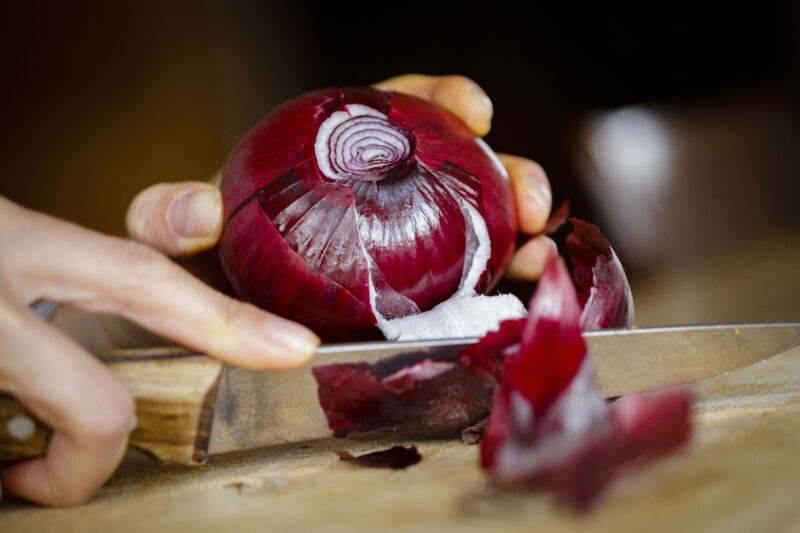 Enlarge / Red onions have
been fingered as the likely culprit. (credit:
GettyThomas Trutschel)
An outbreak of Salmonella infections linked to tainted onions
has mushroomed in North America. So far, the outbreak has sickened
879 people, hospitalizing 114 across 43 US states and seven
Canadian provinces.
The US Food and Drug Administration traced the outbreak back to
red onions produced by Thomson International Inc. of Bakersfield,
California. Thomson issued a recall of all of its onions August 1,
covering red, yellow, white, and sweet bulbs that were shipped any
time after May 1. But the outbreak numbers will likely continue to
climb, given the potentially week-long period between eating a bad
onion and developing symptoms, plus a typical two-to-four-week lag
in case reporting.
The tainted onions were shipped to wholesalers, restaurants, and
grocery stores
across Canada as well as in all 50 US states and the District
of Columbia. Affected stores include Walmart, Kroger, Fred Meyer,
Publix, Giant Eagle, Food Lion, and H-E-B. The onions were sold
under brand names: Thomson Premium, TLC Thomson International,
Tender Loving Care, El Competitor, Hartley's Best, Onions 52,
Majestic, Imperial Fresh, Kroger, Utah Onions, and Food Lion.
Source: FS – All – Science – News
Bad onions cause Salmonella outbreak in US and Canada,
sickening 900