Astronomers have finally measured the distance of first observed Einstein ring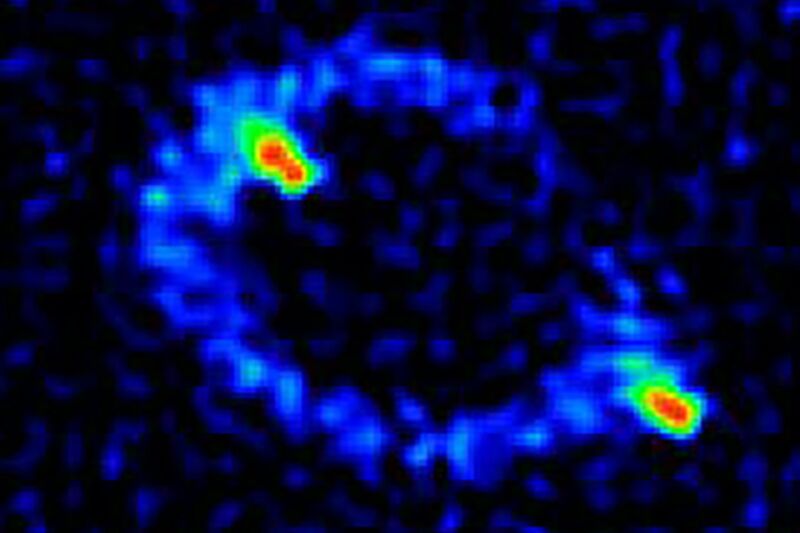 Enlarge / A radio image of
MG 1131+0456, the first observed Einstein ring, taken with the Very
Large Array network of radio telescopes. (credit: VLA)
Astronomers around the world may have lost access to their
telescopes during the coronavirus pandemic, sheltering in place
along with the rest of us, but that hasn't kept them from advancing
their field. Two astronomers used the shutdown to comb through
existing datasets to hunt for a rare type of quasar and wound up
rediscovering a so-called "Einstein ring"
first observed back in 1987. They became the first to officially
measure its distance from Earth, as reported in a
recent paper published in The Astrophysical Journal
Letters.
An Einstein ring is a direct consequence of the general theory
of relativity; mass bends and warps spacetime, and light must
follow that curvature. (An Einstein cross
is an even rarer effect.) As
Matthew Francis reported for Ars back in 2012:
For a sufficiently large mass, the light's shift may be
sufficiently large that we can measure it, and it can produce
lensed images of the original light source. In gravitational
lensing, the lens is a galaxy or galaxy cluster lying between Earth
and a distant source, itself typically a galaxy. If the lens is
directly in the line of sight, the image of the source galaxy can
be distorted into an Einstein ring, a circular image of the source.
By studying the shape and other characteristics of the image,
observers can reconstruct details about both the lens and the
source galaxies.
Einstein himself thought an Einstein ring would be impossible to
observe, but he was thinking of rings formed by stars, noting that
it would be highly improbable to get stars to align in just the
right way to produce the "halo" effect. A single star would also
form too small of a lens, thereby defying, as Einstein observed in
a
1936 paper, "the resolving power of our instruments." (The
angular size of an Einstein ring increases with the mass of the
lens.) But galaxies (and galaxy clusters) do make for a
sufficiently massive lens.
Source: FS – All – Science – News
Astronomers have finally measured the distance of first
observed Einstein ring