Anti-vaxxers wage war in Conn., lawmaker calls vaccines "witches brew"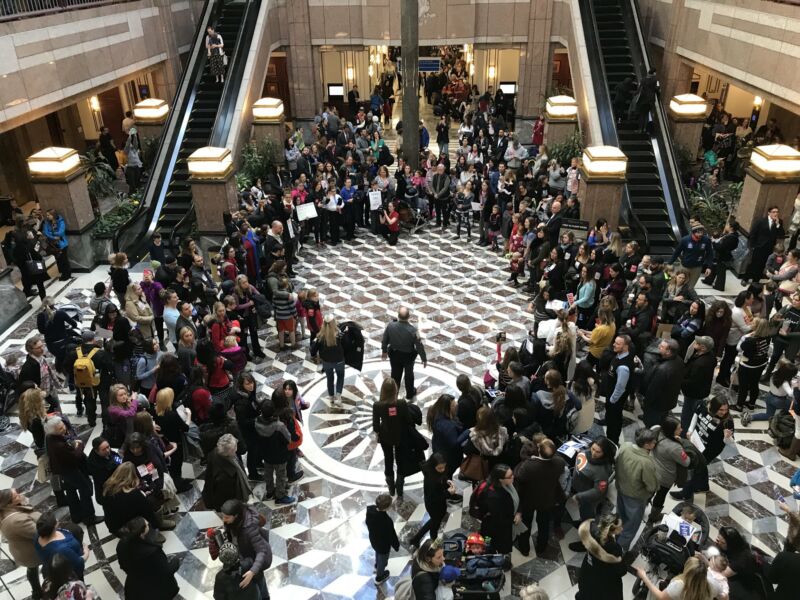 Enlarge / Image of
anti-vaccine protestors in Connecticut's Legislative Office
Building. They formed a prayer circle and said the Pledge of
Allegiance and the Our Father before chanting "Healthy kids
belong in school." (credit:
Twitter Christopher Keating)
The battle over vaccinations ramped up in Connecticut this week
as state lawmakers narrowly advanced a bill—with last-minute
amendments—aimed at banning religious vaccine exemptions for
children.
If passed, the measure will no longer allow parents to cite
their religious beliefs as a valid reason not to provide their
children with life-saving immunizations, which are otherwise
required for entry into public and private schools and
daycares.
The legislature's public health committee passed the bill
Monday in a 14-11 vote bu t not before making a last-minute
amendment that would grandfather in children who already have such
an exemption. As passed, the amended legislation would only apply
to children newly enrolling.
Source: FS – All – Science – News
Anti-vaxxers wage war in Conn., lawmaker calls vaccines "witches brew"