An Italian-made rocket faces a big test on Thursday night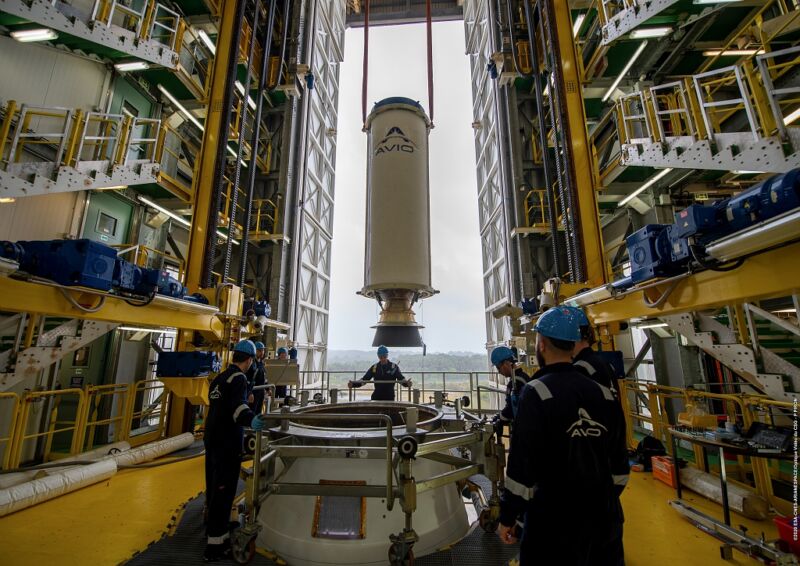 Enlarge / This image shows
the Zefiro-23 second stage being installed onto the P80 first stage
at the Vega Launch Site in February, in Kourou, French Guiana.
(credit: ESA/CNES/Arianespace)
Nearly a year has gone by since an Italian-made Vega rocket
launched a 1.2-ton satellite from French Guiana only to
subsequently fail at reaching orbit. Now, the Vega rocket is set
for its return-to-flight mission on Thursday night at 9:51pm ET
(01:51 UTC Friday). It will be broadcast
on ESA Web TV.
This is an important mission for more than just getting the Vega
rocket back on track. It also is the first launch of a rocket from
the European spaceport in French Guiana since February, after which
the facility closed down due to COVID-19 precautions.
Additionally, with this mission, the small Vega booster seeks to
prove its bona fides as a booster capable of flying rideshare
missions. On this launch, the rocket will debut the "Small
Spacecraft Mission Service" dispenser to deploy payloads of varying
sizes into multiple orbits.
Source: FS – All – Science – News
An Italian-made rocket faces a big test on Thursday
night