A huge Scottish hillfort was the largest settlement in medieval Britain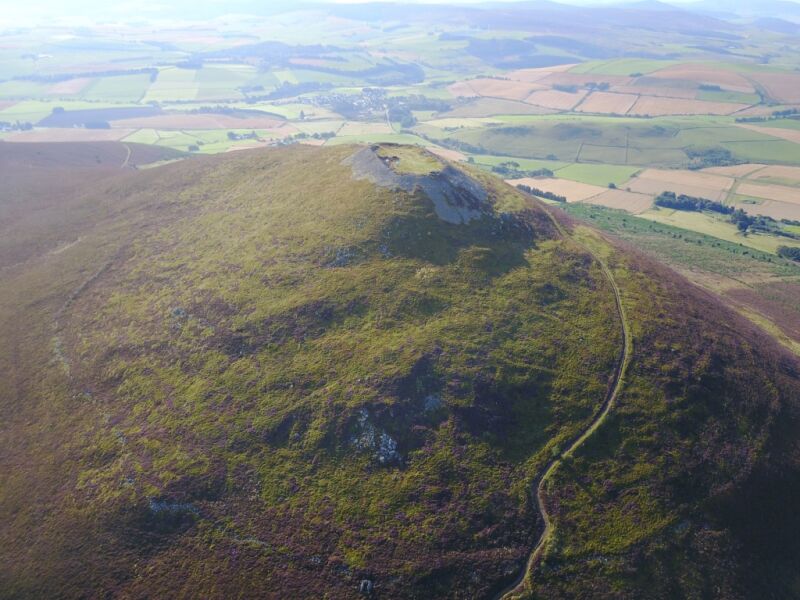 Enlarge (credit: University
of Aberdeen)
On a hilltop overlooking a small Scottish village lie the buried
remains of the largest settlement in medieval Britain. About 4,000
people lived within the community's earthen ramparts during its
heyday in the 400s and 500s CE. That's around the time the Picts
of northeastern Scotland were banding together into kingdoms to
defend themselves against rival groups.
Until recently, archaeologists assumed the fortified community
was much older and much smaller. But a recent lidar survey,
combined with excavations on the hill, revealed a large urban
center thriving in the centuries just after Rome left Britain. A
drone carrying lidar instruments sent over the site, called Tap
O'Noth, mapped the long-buried foundations of about 800 huts,
clustered in groups and along pathways. The huts were all within
the 17 acres encircled by an earthen rampart on Tap O'Noth's
lower slopes. If each hut was home to about four or five people,
that's a total population of 3,200 to 4,000.
"That's verging on urban in scale, and in a Pictish context
we have nothing else that compares to this. We had previously
assumed that you would need to get to around the 12th century in
Scotland before settlements started to reach this size," said
University of Aberdeen archaeologist Gordon Noble. In an email to
Ars, he added, "We really don't have any parallels for a site
this large in early medieval Britain."
Source: FS – All – Science – News
A huge Scottish hillfort was the largest settlement in
medieval Britain