3 different countries, 1 result: Stay-at-home orders work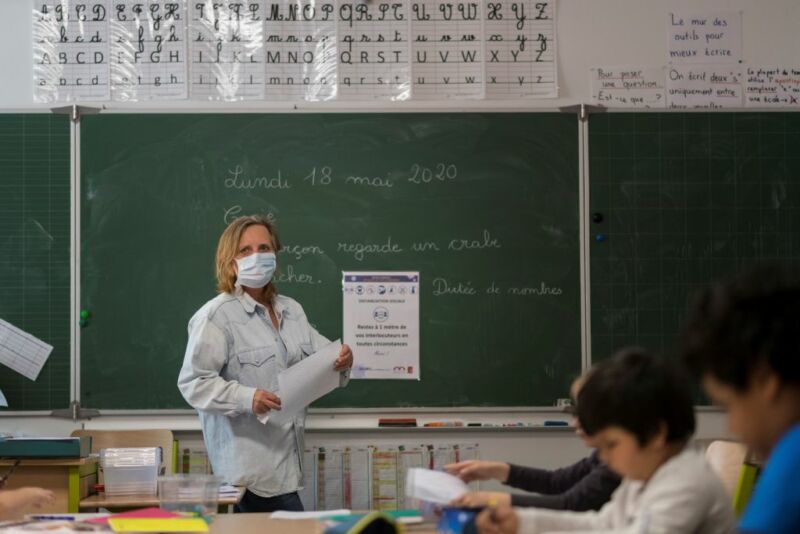 Enlarge / Classes have
restarted in France following the lifting of restrictions. (credit:
SEBASTIEN BOZON/Getty Images)
The various forms of social restrictions, from distancing to
stay-at-home orders, seem like a radical departure to most of us.
But faced with a pathogen that spreads through human interactions,
they're an obvious potential solution to limit that spread. And a
variety of epidemiological models have indicated that various
combinations of these approaches should be effective.
But do they actually work in the real, messy, interconnected
modern world, and against this specific pathogen? It's important to
try to confirm that the models accurately project real-world
results, and epidemiologists are doing exactly that. So far, the
results are good: across several countries and contexts,
restrictions were associated with significant drops in the spread
of SARS-CoV-2. The bad news is that more severe restrictions may be
necessary to keep the number of infections from increasing.
Good news from France
France was one of a number of countries that went for a
lockdown, with anyone found outside their home expected to have a
permit explaining why they needed to travel. The country has only
just started to ease these
restrictions following a period in which the total number of
infected individuals has fallen. An international team of
researchers has now
looked at the dynamics of SARS-CoV-2's spread in the time
before and after the lockdown was started on March 17.
Source: FS – All – Science – News
3 different countries, 1 result: Stay-at-home orders
work